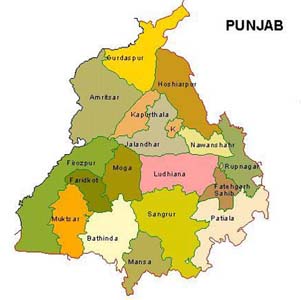 Punjab is also known as the food basket of India.The state is bordered by the Indian states of Himachal Pradesh and Chandigarh to the east, Haryana to the south and southeast and Rajasthan to the southwest as well as the Pakistani province of Punjab to the west, it is also bounded to the north by Jammu and Kashmir.
The state capital is Chandigarh, which is administered separately as a Union Territory because it is also the capital of Haryana. Major cities of Punjab includes Mohali, Ludhiana, Amritsar, Bathinda,Patiala and Jalandhar. After the partition of India in 1947, the Punjab province of British India was divided between India and Pakistan. The Indian Punjab was divided in 1966 with the formation of the new states of Haryana and Himachal Pradesh as well as the current state of Punjab.
Agriculture is the largest industry in Punjab, it is the largest single provider of wheat to India. Other major industries include the manufacturing of scientific instruments, water meter, electrical goods, financial services, machine tools, textiles, sewing machines, sports goods,starch, tourism, fertilizers, bicycles, garments, and the processing of pine oil and sugar. Punjab also has the largest number of Steel Rolling Mill Plants in India which are located in Steel Town Mandi Gobindgarh, District Fatehgarh Sahib.